Hello Everyone:
It 5:00 AM here and I can't sleep due to increased pain, so I thought that I would write to you. This might end up being long. So feel free to stop reading at anytime. But, please make sure to read the business update section as I am starting to take appointments.
First off, I want to apologize for being absent during this time.  I'm still trying to get a grasp on "this" I don't even know what to call it without it not sounding negative. I don't want to call it a disease or an illness because those words to me don't sound positive and I'm trying so hard to stay positive through this.  It easy to fall into the slumps, but I NEED to stay strong because I know ultimately that is going to help me heal.
Medical Update: I'm genuinely having more and more days that are consecutively better. I had blood tests done in late September to check my Free T3 levels. My levels increased from 2.3 to 2.8. I'm healing, but it's just taking a LONG TIME! Optimally, my doctor would like to see my levels up around a 4.2. It took my body close to 4 months to go from a 2.3 to a 2.8. My doctor increased my T3 again so I'm up to 7.5 mcg twice a day. Remember, Free T3 supplies all your cells with all the energy they need to perform their proper functions. When it's low your cells cannot create enough energy and then your body starts taking it's energy from your muscles. So it's crucial to build up my T3 so I can have energy to perform normal daily tasks. I'm still taking all my supplements to help my adrenal glands heal too.
Life Update: I'm now married.  Brian and I were married on October 8th at 5 PM.  It was a very small, intimate wedding without the glitz and glam.  It was focused around us and around close family and friends.  Instead of thinking of it as a wedding it was more of a dinner celebration. It still seems surreal.  It went by so fast!  I wish you all could have been at our wedding, but we needed to keep it small. We have not received any pictures back from our photographer yet, but when we do I'll be sure to to send you all the link. FYI- My new name is Dana Marie Brandt-Tinker.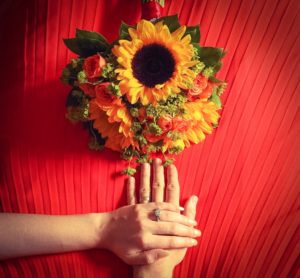 Business Update: I am now starting to "try" to take clients.  This is more of a test to see how my body responds because I'm far from being healing fully.  In my brain I had imagined that I would try to have four clients a week and only working two days a week to help build up my stamina and strength again since my muscles have atrophied. But, that proved to be a bad idea as this past Tuesday my dear parents came over to be "guinea pigs" to see how my body would respond when I gave them a massage. Well, I wasn't able to do a full two hours of hands on time, which I was hoping that I could do.  I got to 90 minutes and my hands started to "burn" so I had to stop.  When I refer to the "burning" feeling imagine hot lava running through your veins and a really deep itch that you cannot scratch. Multiply that image by 10, and that is how my body feels on any given day. Now, add on the feeling of having your hands and feet disconnected from your body because they feel like a wadded up ball of cotton.  It's like the wadded up ball of cotton (my hands) were burning from hot molten lava. It sounds terrible, but I want to be nothing but open and honest with you. So this lead me to think of another way where I can gradually get back to work without causing a flare up. Now, my brain is thinking that it would be best for me to spread my clients out across three days and only have one client per day. So this is what I am hoping to do this coming week on November 1, 3 and 4. If anyone is interested please feel free to book an appointment online.  I will only be taking 1 client per day, so when that day fills up I will block it off. Please understand that I'll do my best to keep your appointment, but if the pain is too bad I will need cancel.  I know this isn't fair to you, but it's the best I can do until I build up strength and stamina again. The last thing I would want to do is to push myself to come back too quickly and then have to leave again because my body can't handle it.
Rockwell Update: Please understand that I have to build up my stamina and strength before I come back. I'm hoping to come back in December working only two hours a week to see how my body feels and then gradually increase my hours at Rockwell. But right now, I think it is crucial for me to start off in Cuyahoga Falls to see how my body responds. I love you all and I want you to be able to depend on me. I want to be able to help you all with your pain. But, I can't help you if I have nothing left in me to give.
I'm going to cut this short.  If you have any questions please feel free to email me. I would love the company!
Thank you ALL for the wonderful words of encouragement you have been sending my way.  It continues to give me the strength I need to get through the difficult days! I couldn't have done it without you!